Ha Giang Loop: motorbike adventure in Vietnam – Itinerary + tips
Picture a 300km road where spectacular scenery, breathtaking views, unspoiled nature, and colorful ethnic groups unravel in front of you. That's it, it's the Ha Giang Loop in Northern Vietnam. I made this guide to help you plan your Ha Giang motorbike loop, ready for a-once-in-a-lifetime adventure?
Having been from south to north Vietnam, I had fought I had seen everything there were to see, little did I know, Ha Giang province is by far the most magical place in Vietnam. It's definitively the highlight of my trip to South East Asia.
Disclaimer: This post contains affiliate links, which means that if you click on any links and make a purchase, I'll get a small commission, at no cost to you.
What to expect during your Ha Giang motorbike loop:
Most of the province is part of the Dong Van Karts Geopark, some of the rock formations date back from the Cambrian (about 550 million years ago). The region is full of amazing karts peaks, black limestone rocks, high mountains, along with deep valleys and winding rivers. The road is spotted with small villages, sometimes just a couple of houses and also plantations, the people living mostly from farming. The villagers managed to tame the mountains and create terraced rice, corn, tea, and flax plantations, among others, creating spectacular scenery.
The villages are pretty far apart from each other and the traffic really light, you will get the feeling of the remoteness of the province. The clouds in the morning give it a surreal touch, prepare to be amazed!
Ethnic minorities in Vietnam
The Ha Giang Loop is not all about the scenery, it's also about the rich ethnic diversity of the province. Along the way, you will meet many people wearing colorful traditional clothing, especially at the local markets. The markets are also the best places to buy handicraft and try local food (ask before you start on which dates and where the markets are held).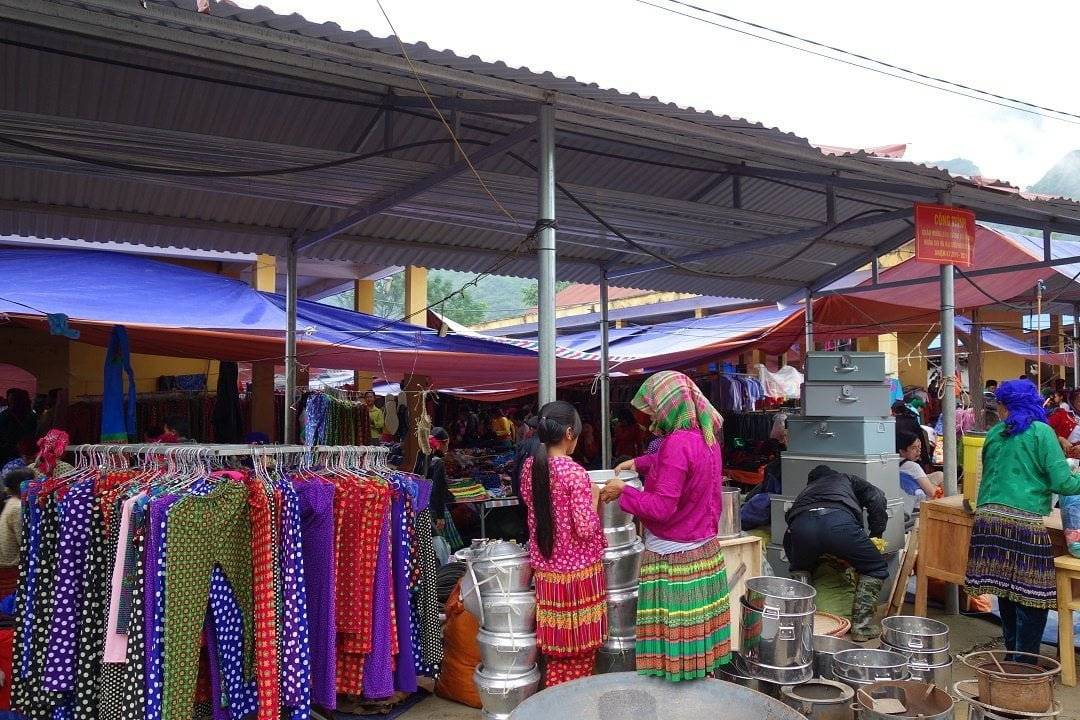 The people here are unbelievably friendly, expect the children to wave at you and try to high five you when you pass by them on your motorbike. You will only see smiling faces along the way. Try to stop in small shops to have a drink, this is the best way to interact with locals (bring a translator). On the first day, we stopped to have coffee and ended up staying for 2 hours and doing a cooking class.
Locals usually don't mind having their picture taken but always ask first, they're pretty shy about it.
On your way, you can expect to meet mostly with Tays, Black Hmong, Lolos, and Nungs. The men usually are dressed the same way: with a beret and a Chinese-like black shirt. You will differentiate the women with their clothes:
Tays women wear a black costume with a colorful belt and usually wrap their hair in a black shawl.
Black Hmong women wear a short black skirt and black leg warmer; they have an embroidered jacket with two parts hanging on each side which they bring in front and hold with a belt. They wear a big silver necklace and wrap a shawl around their head.
Lolo traditional clothing is probably the more colorful of the Ha Giang province, they wear a colorful skirt and an embroidered jacket full of colors, they wear a hat with ribbons and trinkets.
Nung women wear black clothes with red embroideries, and a red "hat" made of fabrics and jewelry.
Along the main road don't expect to see exclusively traditional houses, you will pass many small cities, and even in the villages you'll mostly see concrete houses, if you want to see a more rural lifestyle you'll have to take the small roads, usually in bad shape though.
Read more about ethnic minorities in Vietnam.
Ha Giang Motorbike loop tour Itinerary:
Day 1: Ha Giang to Yen Minh – 96km
Day 2: Yen Minh to Ma Le – 44km
Day 3: Ma Le to Du Gia – 104 km
Day 4: Du Gia to Ha Giang – 68km
I went with another backpacker I had met in Sapa a couple of days before. We chose to share a motorbike, to minimize the cost and also because I'm not a big fan of driving. Renting a motorbike in Ha Giang is a bit more expensive than in the rest of Vietnam, we paid 170k dongs per day for a Honda Win, make sure it works well before taking it.
We completed our Ha Giang motorbike loop in 4 days, which I think is pretty good if you want to see everything. If you're in a hurry, you can skip Du Gia and from Niem Son go back to Yen Minh and then to Ha Giang. You can do this Ha Giang loop in 2 days, but you'll have to rush and miss many interesting places. I would recommend taking at least 4 days/3 nights to complete the Ha Giang Loop.
On the first day, we made a stop at Lung Tam, a Hmong Village, famous for its flax weaving. You can visit the cooperative where they will show you the traditional process from A to Z, they will even let you try some of the steps. After, you can stop by the shop and help support the local economy by buying a small souvenir.
On the second day, we made a stop in Sa Phin to visit the Vuong Chinh Duc Palace, worth a stop but nothing spectacular (20k dongs for the entrance ticket). In Sa Phin, we had decided to exit the main road and go all the way up to the Chinese border, but it started to rain, so we stopped in this amazing guesthouse in Ma Le, a Lolo village. The staff is super friendly and the village really nice, a lot of traditional houses and the people are very welcoming, definitively worth a stop.
The third day was definitively the best part of the Ha Giang Loop, in the morning we walked around the market in Dong Van, more similar to a regular Vietnamese market but still nice, I recommend to try the delicious fried banana.
The scenery from Dong Van to Meo Vac is just amazing, it was really clouded, but it gave it a mysterious vibe, we were literally in the clouds with just the tips of the mountain getting through. At Niem Son, we exited the main road to reach Du Gia, a small village surrounded by rice fields and mountains. If you have time, you can go trekking and reach other villages in the area.
On the fourth day, we were lucky enough to be there at the same time as a huge market in Du Gia, truly amazing, with a lot of people from different villages all around the area. To see all these people in traditional clothing was a truly authentic experience, you see how people with almost no contact with the outside world live, in a country as well developed as Vietnam (if you want you can even buy some of the clothes the locals wear).
We then hit the road, it was time to finish our Ha Giang Loop. For this last section of the road, many people choose to make their way back to Yen Binh because the direct road from Du Gia to Ha Giang is in a terrible state. We decided to take the short one, so I can tell you 20km of it is just terrible (dirt road with patches of old concrete, and a lot of mud), but it's doable, just go slow, and you'll be fine.
Overall, I was amazed the entire time, I have been to a lot of places, but I had never seen something so spectacular, and the kindness of the villagers is just what makes this experience perfect. If you have one spot not to miss in Vietnam, it would be this one.
How to get to Ha Giang:
It's an 8 hours drive from Hanoi, many buses depart daily from the My Dinh bus station, you can also arrange this with one of the many travel agencies in Hanoi.
It's also an 8 hours drive from Sapa, it departs daily at 9:30 am from the bus station, if you miss it you can always catch a bus for Lao Cai and then for Ha Giang; You can cut the way in two and stop in Bac Ha, a small village known for its Sunday market.
There are also several buses for Haiphong (Halong Bay) and from Cat Ba, ask your hotel to arrange it for you.
You can also get from Hanoi to Ha Giang by motorbike, either with your own or a rental. The roads are pretty good, but the journey is quite long so you might want to plan to stop for the night along the way.
Doing the Ha Giang Motorbike Loop: advice before you go
In high season you should probably book a room a couple of days in advance, many of the villages don't have a lot of accommodation to offer; even though I went during low season, all the places I stayed were fully booked.
If it starts raining, just stop somewhere and wait for it to stop, it's not worth it, and the roads become more dangerous.
Regarding driving a motorbike, be careful the roads are good but not very large, don't hesitate to use the honk in the turns! I wouldn't advise someone who never drove to start with this road and most important when you rent a motorbike ask for a good helmet!
Try not to do it alone, it's safer and more fun to be in a group. It's really easy to meet people who are about to start the loop in Ha Giang.
Between November and March, it gets pretty cold in the mountains, you should pack a good jacket.
Ha Giang permits: Officially you are supposed to buy a permit (about 10$) to be allowed in this area, but no one checked if I had mine, at the time I was there (November 2017) I hadn't heard of any backpackers who were asked for it either.
Ha Giang motorbike rental: you'll easily find a bike for rent in Ha Giang, the price is usually the same. You can either rent from your hotel or from one of the many rental companies in Ha Giang.
For the ones who don't want to drive a motorbike, you can still do the Ha Giang Loop. Either by bus (but you will be missing some of the villages off the road) or with a private driver. It is possible to do the Ha Giang loop by car. Many tour agencies offer this service, you can choose to go by bike or by car, more expensive but totally worth it if you can't drive by yourself.
Don't know where to go next? Check out one of my other favorite places in Vietnam: Ninh Binh.
Like it? Save it for later – Ha Giang motorbike tour: