Top 10 best National Parks in Thailand
Thailand counts more than a hundred national parks, protected areas, and wildlife sanctuaries. Most of them are paradises on earth and offer spectacular scenery and impressive wildlife. From trekking to waterfalls through lush jungles to taking a safari to see wild elephants, you'll be amazed every step of the way. Listed below are some of the best national parks in Thailand you should add to your bucket list.
Disclaimer: this post contains affiliate links, which means that if you click on any links and make a purchase I'll get a small commission, at no cost to you.
Best National Parks in Thailand:
Mu Ko Ang Thong National Park
Mu Ko Ang Thong National Park offers breath-taking viewpoints and amazing landscapes. It's also a great area to go snorkeling or diving. In my opinion, it's the best National Park in Thailand. It's conveniently located near Ko Samui and Ko Phangan, from which you can arrange for a day trip or to be dropped off for a few days. It's the perfect place to unwind and disconnect.
You can rent a bungalow or a tent at the Park Head Quarter on Ko Wua Ta Lap, there you'll also find basic facilities and a restaurant.
Khao Sok National Park
Its convenient location near Phuket, Krabi, and Surat Thani make Khao Sok National Park the most popular mainland park in Thailand. The park is mainly rainforest with a rich fauna and flora. Among its more iconic spots are the limestone cliffs, waterfalls reached by trekking through the lush jungle, Khao Sok lake and its raft houses, caves, and few water streams. You might spot some elephants, but the park highlight is the Rafflesia flowers, easily seen from the trails.
You can get to the park HQ by public transportation from the nearby towns or join a tour. A guide is mandatory for longer trails.
Mu Ko Lanta National Park
Mu Ko Lanta National Park regroups several islands and only a small portion of Ko Lanta. There are more things to do and see on the smaller islands than on Ko Lanta. You can easily arrange for a day trip from there. The beaches are pristine and the vegetation tropical. The park is also home to nomadic sea gypsies. You can trek to waterfalls and caves on most islands, some of the viewpoints are jaw-dropping.
Than Bok Khorani National Park
Located near Krabi, Than Bok Khorani National Park makes a great day trip. Famous for its lush vegetation, limestone formations, scenic waterfalls, and underground caves, the park is made of several smaller area in Northern Krabi. So there's a lot to do there. From trekking to emerald blue ponds to kayaking through caves home to 3000 years old paintings, you'll be enchanted by the park many wonders.
Erawan National Park
Erawan National Park is famous for its waterfalls and emerald green pond. The color of the water is surreal. The park is great for light treks. The trails are well maintained and highly frequented. It's best to avoid weekends and local holidays. There are also several caves in the area you can visit.
To visit the park, you can arrange a tour from Bangkok or Kanchanaburi. From Kanchanaburi, you can also take public transportation to reach the fall. The park's entrance fee is 300THB. You can rent camping equipment and bicycles at the visitor center.
Kui Buri National Park
In Kui Biri National Park you have high chances of spotting elephant's herds. It's one of the best national parks in Thailand to see wild elephants The park is mostly evergreen and is full of open areas making it super easy to see wildlife. The park is also home to many Gaurs (Indian Bisons) and a couple of Leopards. The leopards are rarely spotted though. The main thing to do there is wildlife watching, there are no trekking options. You'll need to get to the Wildlife Watching Area (only opened from 2 pm to 6 pm) and organize a safari from there. The entrance fee is 200THB, the safari costs 850THB for up to 8 people.
You can easily get by public transportation to Kui Biri Town or nearby Hua Hin, but you'll need to hitchhike or take a cab to the park.
Khao Yai National Park
Khao Yai National Park is Thailand's first National Park and is one of the easiest place there to watch wildlife. You have strong chances of seeing elephants, macaques, Gibbon, porcupines, civets, barking deers, and sambar deers. The park is also home to around 300 bird species, amongst them the famous hornbills.
The park is best visited as a safari, at least if you want to see wildlife. Most attractions are far apart, a lot of areas cannot be accessed on foot, and you'll need a guide for most treks.
You can arrange the safari from Bangkok as a day trip, or you can also get there by public transportation but it's complicated, and you'll need to book a safari anyway. You cannot enter the park on foot. There's a campground there, and several guesthouses and hotels outside the park boundaries.
Tarutao National Marine Park
Thailand's first marine park includes 51 islands and more than 1,490 square kilometers of land and sea. Its most famous island is the quiet and laid-back Ko Lipe, but most of the park's terrestrial point of interests are on Ko Tarutao, the biggest island of the group. The island is mostly uninhabited and covered with forest. The beaches are pristine, and the trails will take you to amazing viewpoints. You can also take a boat around the island. For island hopping and diving you'll need to arrange it from Ko Lipe.
To get to Ko Tarutao from the mainland, you'll need to take a boat from the Pak Bara Pier. You can camp and rent tents at the visitor center, there are also a few bungalows, but you'll need to book one in advance. The entrance fee is 200THB.
Doi Inthanon National Park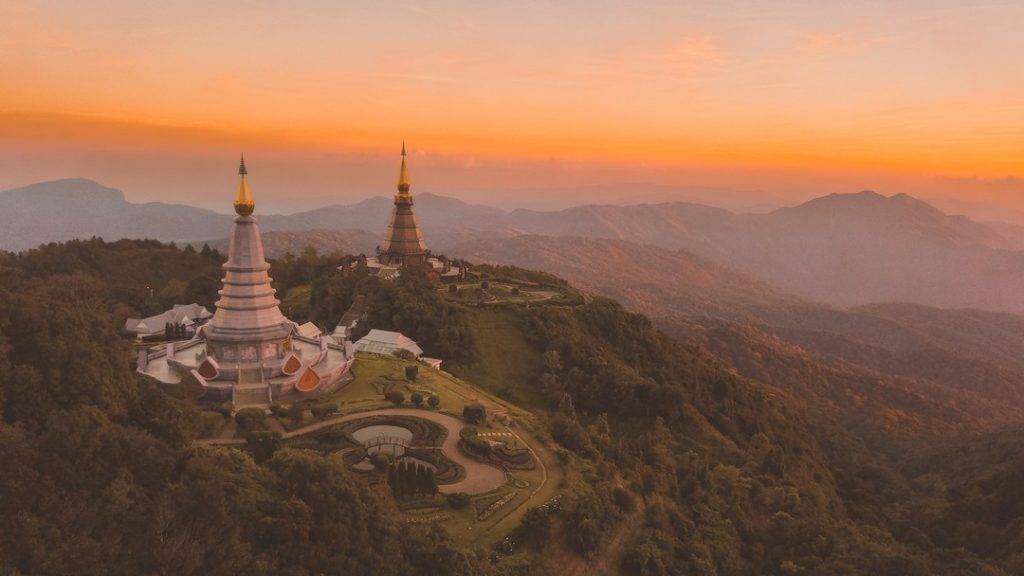 Located in Chiang Mai Province, Doi Inthanon National Park is home to Thailand's highest mountain and is part of the Himalayan mountain range. It's Northern Thailand's most popular parks. During winter, the area is often covered with fog, and in the morning you can witness the Mae Kha Ning (frost flowers) phenomenon.
Doi Inthanon National Park is a great place for trekking, on most trails you'll end up at a beautiful waterfall or a traditional village.
Entrance fee: 300 THB – Getting there by public transportation from Chiang Mai can be done but is challenging. The best way to visit the park is to either rent a car or join a tour. If you want to spend the night, there's a campsite and a couple of bungalows near the visitor center, you can rent tents and camping equipment there, but there are no restaurants nearby.
Bang Lang National Park
Bang Lang National Park, located in Yala Province, is the most off-the-beaten-path park of this list. You won't see many tourists there, contrary to the rest of Thailand. The park is known for its lush tropical rainforest, rich fauna and flora and its spectacular sights.
Although chances are slim, you might see Sumatran rhinoceros, tapirs, rhinoceros hornbills, helmeted hornbills and many more, mostly lizards and birds.
From the Park's Headquarters, you can easily trek to the Bang Lang Dam, Halasa and La-ong Rung Waterfalls, Than To lake and Than To Waterfall.
Related articles to help you plan your trip to Thailand:
What about you? What is your favorite? Which one do you think is the best National Park in Thailand?
Like it? Save it for later – Top 10 best National Parks in Thailand